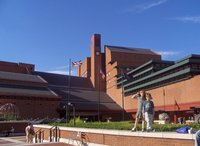 Colin St John Wilson, the architect of the British Library building wrote that he hoped that the library and its court yard would become a social assembly place and rendezvous point, particularly as the King's Cross area is opened up by the arrival of the Channel Tunnel Rail Link.
We visited the British Library on our recent trip — as tourists. We were reminded of what a good public space it has become. The building, the subject of much critical attention when it finally emerged from construction, works as a public building.
Wilson endorses the view of Alvar Aalto, another architect of libraries, that a building should be judged not on the day of its opening but after thirty years of use. Some time to go here …
In the pictures are Eavan and Eoghan, our children.