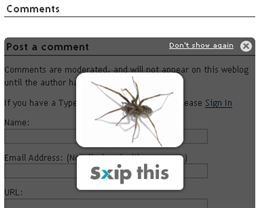 I installed Sxipper a few days ago.
Sxipper is a free Firefox extension that saves you time on the web, enabling you to easily control the release and management of your identity data. With a single click, Sxipper is trained to securely log you in with a username or an Identity 2.0 authentication mechanism such as OpenID. [Sxipper: FAQ]
Before this experience I had not really connected the name of the company – Sxip Identity – with its service ambitions. This picture makes it clear. Skip those login screens!