Google revamped its home page a while ago, highlighting a little more some additional features such as its wonder wheel, related searches, social (which searches among your 'friends' on various sites), nearby, and so on.
I find the ability to limit by the date of pages in results quite useful – there are many times where you want to see 'recent' things.
I wonder how much some of the other features are used? I had a look at some results earlier.
Here is the wonder wheel for 'Lorcan Dempsey' results.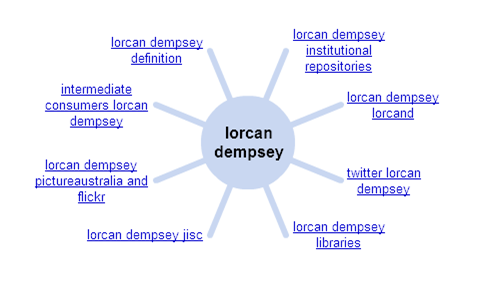 Here is what clicking on 'related searches' for an original search on 'Lorcan Dempsey' shows:



Now, I am not quite sure why these are different. Or how useful they are. I tried several other searches, more aligned with recent interests, and the results would not really motivate continued use in the future.
I hope that Google publish something about patterns of use at some stage to see how the various features are used. A while ago, Andy Powell wrote of Google:
Google search is the benchmark of functionality and usability in Internet search – it's what every other search engine compares themselves to and it has been pretty much since it was first released. That's a pretty amazing track record!
What's been the basis of that track record? It is simplicity, at least as far as the user is concerned, that has kept it in pole position. Google search does one thing, really, really well. [eFoundations]
He compared this with other Google services, which fell short in some way of this simplicity and clarity. We value greatly the simplicity, the ability to find things quickly. And the ability to look at news, or images, or videos, and so on. We cannot imagine living without it, in fact, and at some level understand that Google works hard to provide this quality of experience. But some other things seem less compelling: the integration of real time search or the search of your social circle for example. And some of the new features I mention here. It is almost as if Google knows this too for their addition seems a little perfunctory. They are literally marginal to the main results.
That said, I was interested in one aspect of the refining approaches where results are placed along a timeline …



It looks as if my career peaked in 1996 😉
(Minor update: 31 May 2010)
Sign in or become a LorcanDempsey.net member to comment. See Membership page for more detail.
---