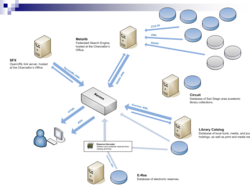 The papers from the recent NISO OpenURL and Metasearch meeting provide a very useful roundup of the state-of-the-art in the declared subject area. But they also touch on other topics facing libraries as they construct distributed information environments. Some things that lodged with me as I skimmed powerpoint:
Taken with the discussion of authentication [ppt by my colleague Mike Teets], many of these discussions clearly evoke an environment of services, whether within a library or increasingly withing a distributed group of libraries, providers and users. Such environments need directories or registries, and good ways of streamlining communication between parts. These presentations give a snapshot of much of the relevant work going on in the library community now. We have much more to do …
Related columns and posts:
Note: image from David Walker's presentation [ppt].
Another note: see here for a report of another presentation of the CalState, San Marcos work.