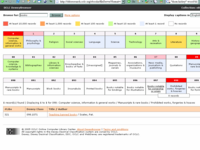 I am very pleased to see the DeweyBrowser appear on our ResearchWorks page. Thom trailed its appearance a while ago and had discussed some technical context. There is some more information on a background page.
We have brought it up over a collection of eBooks extracted from WorldCat; we will probably bring up some other collections in due course.
We have worked with visualization techniques in the past, and watch other intiatives with interest. I think it is fair to say that opinions are divided internally about how effective some of these approaches are once one gets past the initial 'play' phase.
I like the approach presented here. Try it for few minutes!