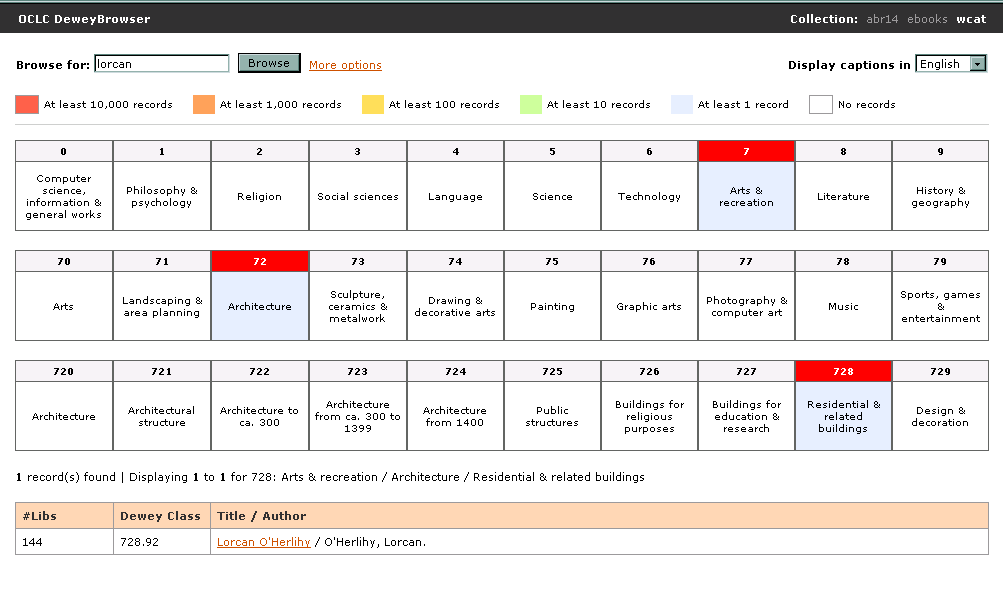 We have added some new collections to the Dewey Browser. These are wcat, 2.2 million of the most widely held records in WorldCat, and a selection from the Abridged Edition 14 of the DDC.
The wcat collection has been grouped based on the OCLC FRBR work-set algorithm and includes links to the Open WorldCat `Find in a Library' service.
The second new collection, abr14, is a non-bibliographic database which consists of selected data from the Dewey itself. [DeweyBrowser deployed over two new collections [OCLC]]
These are interesting for several reasons:
Is such organization useful? Yes. Is it perfect? What is perfect? Again, we want to show the value of making structured data work harder. This shows a nice way of moving through a corpus in different ways, of being able to switch the browse language, of being able to narrow to particular language results (try clicking on the more options in the wcat collections), of seeing the relative subject strengths in a collection, of being able to filter result sets. A choice does not commit you to a particular trajectory: alternative paths remain visible and available.
Since Google Maps appeared there has been a lot of interest in developing applications in an Ajax idiom. This is such an application: the flow between the levels is very smooth.