Book sales - making data work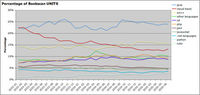 Tim O'Reilly uses aggregate tech book sales data as a trend indicator. He is looking at the relative 'popularity' of programming languages.
What Book Sales Tell Us About the State of the Tech Industry. One of the conclusions I drew was that Java was in decline, as its share of total programming language book sales had dropped by five percentage points in the twelve months ending June 2004. Well, we just re-ran those numbers, and saw a startling reversal. [O'Reilly Radar > The Rise of Open Source Java]
Sign in or become a LorcanDempsey.net member to comment. See Membership page for more detail.
---