To mark Children's Book Week folks here at OCLC are talking about children's books that mean something to them Here are two I like …..
The Wool-pack
One of the first 'long' books I remember reading was The Wool-pack by Cynthia Harnett; the richness of its historical description made a lasting impression. This was first published in 1951 and runs to several editions under different titles. It is set in England at around the same time that Columbus was landing on this side of the Atlantic, and follows the adventures of a young boy, his servant, and his betrothed, as they try to undo some plotting against his father, a wool merchant. I do not know enough to know how realistic the historical setting is, but the strangeness and reality of another time and place are convincingly evoked. There is a strong narrative drive. I recently read it to my own children, Eavan (11) and Eoghan (8), and they were soon caught up in the story, as well as being fascinated by the historical detail of costume and custom.
Peepo!
I took a children's literature course in library school; in fact this is where I got my best grades 😉 We were lucky in our teacher, Pat Donlon, then Director of the very interesting Chester Beatty Library, now newly housed in the grounds of Dublin Castle, and, later, the Director of the National Library of Ireland.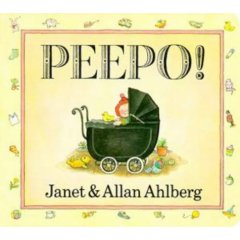 One assignment was to write reviews of children's books for several different ages. Peepo! was among my choices; it is my favorite book from the marvelous Ahlbergs. The illustrations are of an England which has disappeared, if it ever existed, executed in comforting detail. But a full page is not immediately revealed. It is seen through a round spy-hole from the previous page. A rhyme conveys what the baby can see of the scene. But what the baby sees is not what the reader sees through the spy-hole. This means that when you turn the page, your attention is in the wrong place and you immediately look for what the baby sees. The playfully intricate detail leads to delighted discovery and exploration. It is a wonderful conceit and lovingly executed.
Our children liked the Ahlbergs. Each peach pear plum is fondly remembered, another I spy book. But the favorite by miles is the story of the tender-hearted Burglar Bill.
Incidentally, I notice that my copy of The Wool-pack is the Puffin edition. Puffin was the children's imprint of Penguin, which I talked about the other day. Our Peepo is the 1989 Picture Puffin.