QOTD: measuring web audiences
From an article in the MIT Technology Review …
…. confusion about the size of web audiences is universal.
No one really knows how many people visit websites. No established third-party supplier of audience measurement data is trusted. Internal Web logs exaggerate audiences. This matters to more people than investors, like McNamee, who worry that they have no way to evaluate new-media businesses. The issues involved are technical, and occluded by ugly jargon, but they concern anyone anxious about the future of media as print and broadcast television and radio shrink in importance. [But who's counting]
The article contends that the absence of a reliable and agreed measure of web audience means that there are no authoritative third party measuring services which in turn is impeding the development of online advertising.
It also profiles Quantcast, a company which is trying to fill that gap. I look at Quantcast occasionally. I find its listing of other sites interesting, other sites liked and other sites linked: the list for the BBC is given here. (Caveat: I have not looked into how Quantcast assembles this data and note it here just for interest.)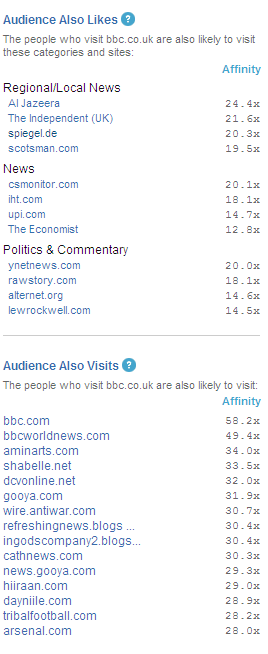 Sign in or become a LorcanDempsey.net member to comment. See Membership page for more detail.
---